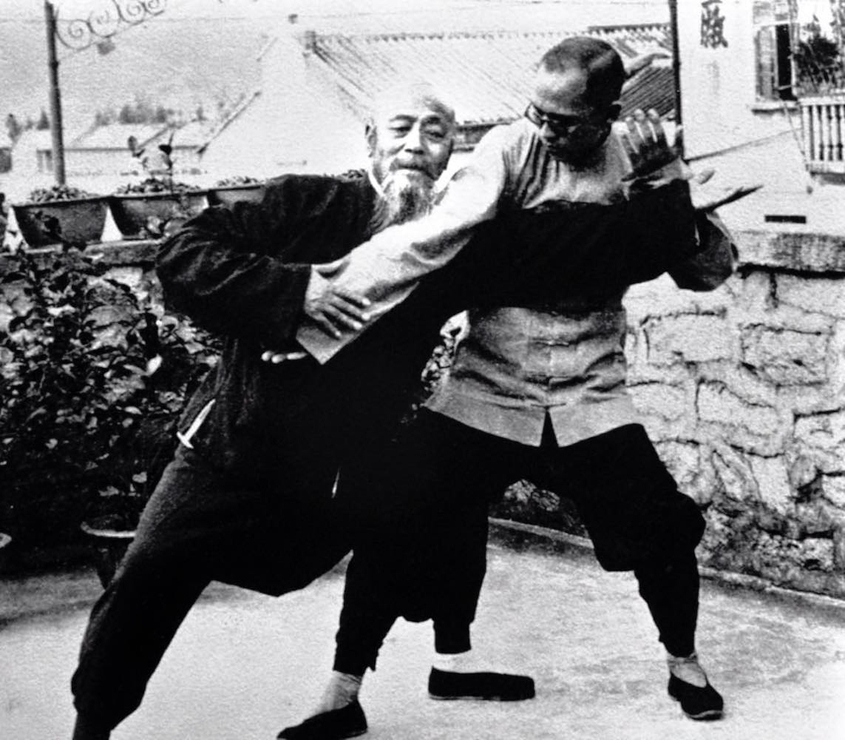 Grandmaster Wu Chien Chuan demonstrating an appliction from the Wu Family Tai Chi form
Tai Chi Workshop and Demonstration
Saturday 4 August 2018, 2–3pm V22 Louise House
Demonstration and Introdutory workshop with TCUGB Instructior Jono Podmore and members of the V22 Forest Hill Tai Chi Club.
Tai Chi Ch'uan is a sophisticated and supremely effective martial art that aims to improve concentration as well as mental and physical efficiency. Its main objective is to achieve good robust health, peace of mind and longevity. Tai Chi Ch'uan is played slowly and calmly in order to develop balanced relaxation, supple co-ordination and expression of the Tai Chi philosophy of Yin and Yang, the harmony of complementary, opposite forces.
Come along for a demonstration and a gentle taster session with Jono Podmore.
Tai Chi is particularly helpful for people with mobilty and postural issues. Please wear loose clothing with trainers or kung fu slippers – no outdoor shoes please.
Everyone is welcome to attend.
This session is suitable for ages 18 years and over.
The session costs £5. The demonstration is free to attend.
Jono Podmore – a qualified teacher with over 30 years international experience in the martial arts including training with Wu Kwong Yu in Hong Kong. Current holder of the Ronnie Robinson Trophy, Jono is a registered instructor with the Tai Chi Union of Great Britain. The Forest Hill Club moved to V22 in September 2016 and has been growing ever since. Jono is a disciple of of Sifu Gary Wragg at Wu's Tai Chi Chuan Academy in Bethnal Green part of the International Wu Style Tai Chi Chuan Federation.
Venue info
V22 Louise House
Dartmouth Road
Forest Hill
London
SE23 3HZ
(Between Forest Hill Pools and Forest Hill Library)
Overground: Forest Hill
Bus: 122, 176, 197